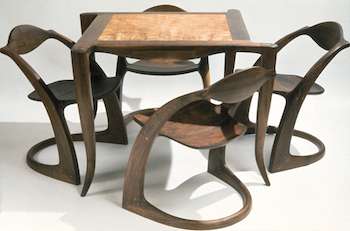 In 1974 I started work for Wendell Castle. The pieces he made were interesting and challenging for me as a relatively inexperienced woodworker. I did a lot of sanding and finishing….
After about a year on the job I was given more responsibilities. One of my tasks was to learn how to make these elegant chairs and table. The table was one of the few objects Wendell designed that used veneer. The chairs involved some modest joinery as well as laminating the hoop that sits on the floor.
It was while I was at Wendell's that I first attempted marquetry. He allowed me to use the shop nights and weekends, as well as use scraps of veneer. I started small making very simple floral box tops. By the time I left after a little more than two years I felt I knew my direction. I wanted to pursue marquetry as well as use it on furniture.